3rd CTTE winners welcome meeting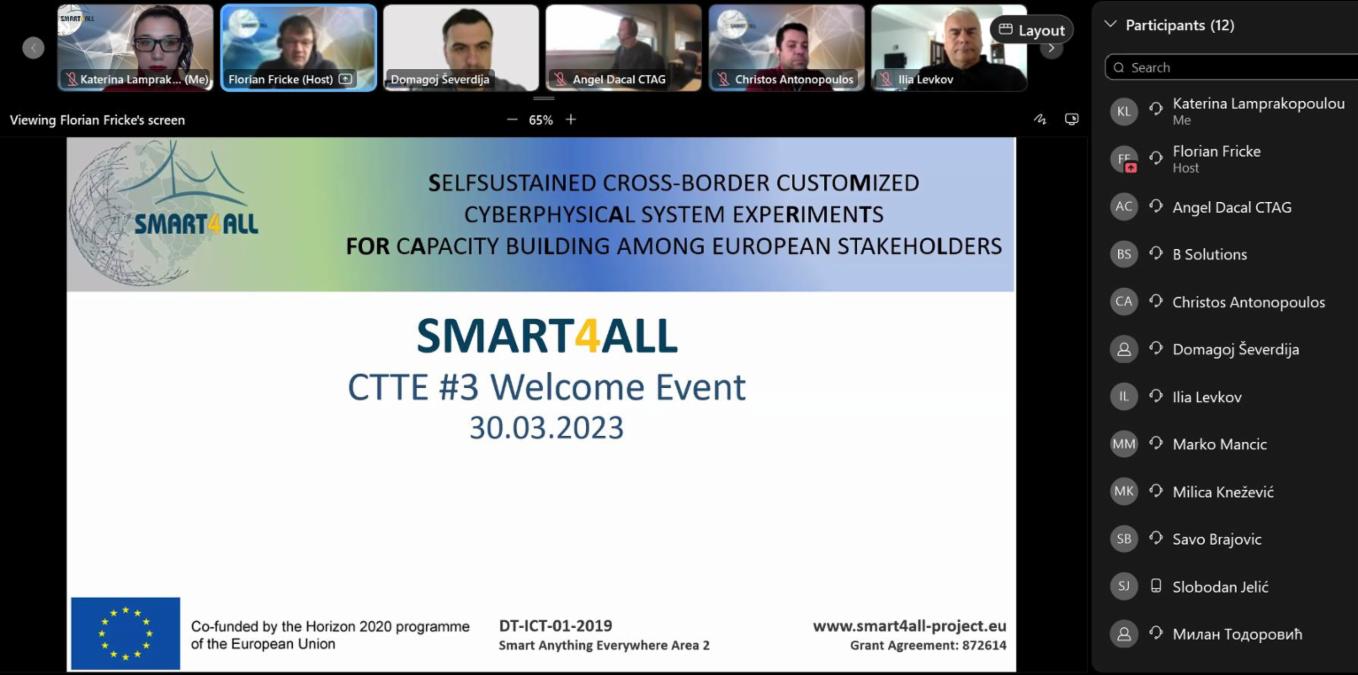 On March 30th, 2023, SMART4ALL welcomed the winners of the 3rd CTTE Open Call in an online meeting, led by BTU and the Head of the mentoring committee, Florian Fricke.
The purpose of the meeting was to inform the representatives of the winning consortia about organizational and administrative issues, to underline their obligations during the projects' execution and reporting and to give them the opportunity to present their project proposals as well as to meet each other.
At the beginning of the meeting, winning projects' representatives were given the floor to briefly present their ideas, expectations and future steps for project execution. More specifically,
Mrs. Milica Knezevic presented BC4GRID project, a collaboration amongst B Solutions (Montenegro), the Mathematical Institute of the Serbian Academy of Sciences and Arts (MISANU) and INCEPTON (Croatia)
Mr. Marko Mancic gave an overview of the IoT Soltrack project, proposed by Innovation Center University of Nis (ICUN) (Serbia), the Faculty of Electrical Engineering & Information Technologies (FEEIT) and Alfa Klima (Serbia)
Mr. Angel Dacal offered a presentation of ITHACA, a project to be executed by INFOCOM LTD (Ukraine), CTAG (Spain) and IKEM AD (Bulgaria)

The floor was also given to Christos Antonopoulos (UoP), technical manager of SMART4ALL, who introduced the CTTE winners to SMART4ALL Marketplace emphasizing on their obligation to provide artefacts as a contribution to this novel one-stop-smart-shop, and to Katerina Lamprakopoulou (PSP), SMART4ALL communication officer, who gave the main communication guidelines for delivering material showcasing the projects' results and supporting the experiments' sustainability.

The aim of the meeting was not only to offer the CTTE winners all the necessary information for the orderly execution of their experiments, but also to foster collaboration and encourage a fertile exchange of ideas and good practices. The virtual meeting proved to be a fruitful warm-up opportunity for all projects, which officially start on 1st of April, 2023.
Related Posts: