Review of the SMART4ALL interactive online workshop "SMART4ALL Opportunities for collaborating with (E)DIHs"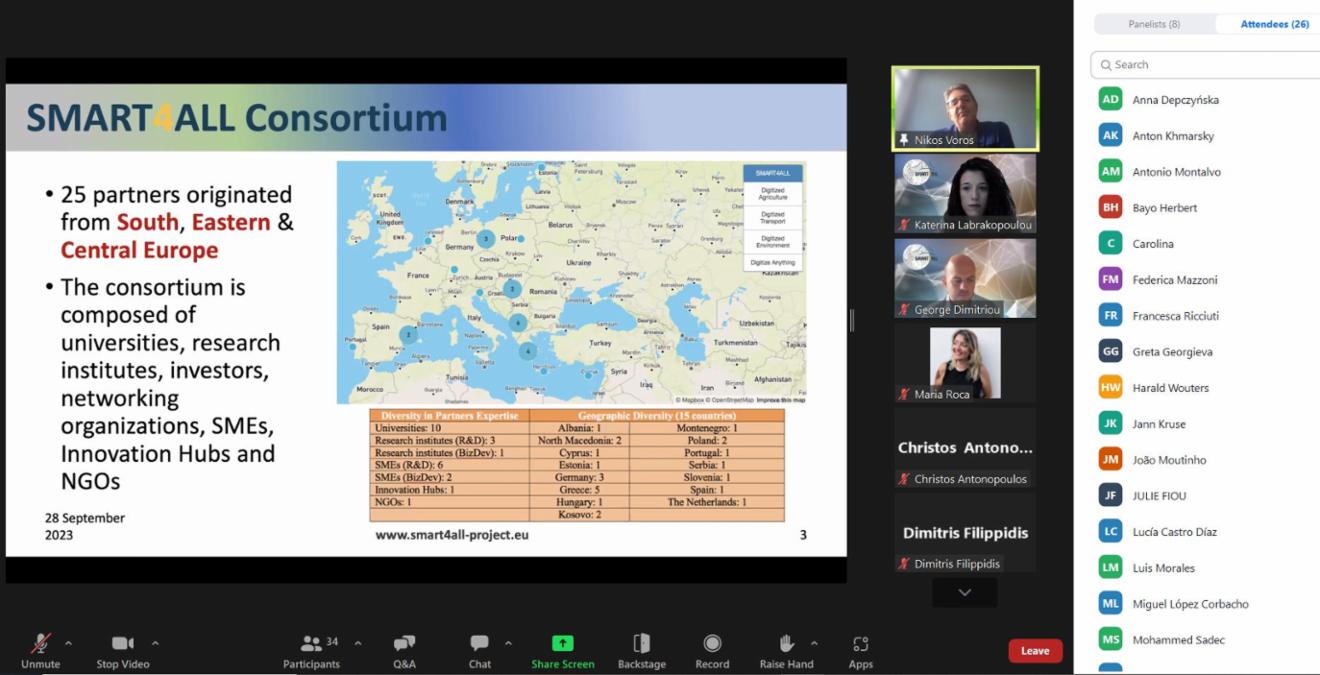 On September 28th, a pivotal online event unfolded as experts from Smart4All connected with a diverse group of EDIHs (European Digital Innovation Hubs) from across Europe. This webinar, "SMART4ALL Opportunities for collaborating with (E)DIHs", offered insights into the opportunities for cooperation with SMAR4ALL. 39 representatives of (E)DIHs participated in the event. During the workshop the participants had the opportunities to learn about the project and its value proposition to (E)DIHs and discuss together how to make a better use of project outcomes and results. The SMART4ALL partners presented the opportunities and results and learned from the participants what are the assets that can be of higher interest.
The event started with a welcome speech by SMART4ALL project coordinator, prof. Nikolaos Voros, (University of Peloponnese) who introduced the participants to Smart4all objectives, activities and results.
How to connect SMART4ALL and DIH networks/ EDIHs was introduced by George Dimitriou from PRAXI Network
Participants in the workshop had the opportunity to hear from the first-hand experience of Smart4health European Digital Innovation Hub by Dimitris Filippidis
SMART4ALLtechnical manager Christos Antonopoulos from the University of Peloponnese and Katerina Lamprakopoulou, communication officer from Patras Science Park (PSP), shared with the participating EDIHs what are the ongoing and upcoming opportunities they can use such as tools, services, Marketplace and SMART4Women network activities.
An interactive activity and networking session for identifying DIHs/ EDIHs needs and interests was leaded by Maria Roca Puigserver, Senior Project manager at FundingBox.
In the MIRO platform representatives of EDIHs had the opportunity to brainstorm, and also SMART4ALL project partners to hear the feedback of the participants on the following questions:
What tools, initiatives or networks supporting DIHs/EDIHs participants are currently using, and what do they like about them?
What are the features that would bring more value to the (E)DIHs (thinking about the support to be offered to SMEs)
What the participants do need to make use of the Smart4All tools and results?

The results from the exercise showed that the participants are using the support and opportunities of Digital Transformation accelerator, regional clusters and regional events, projects with other DIHs, part of EU networks, like SCODIHNET, or GAIA-X. The network opportunities and project maturing opportunities were recognised as most helpful.

The insights from experts and participants have set the stage for a future where cooperation and innovation thrive, paving the way for digital transformation across various sectors.

Regarding SMART4ALL, the features and activities recognised as most valuable by the EDIHs representatives are: networking opportunities and access to innovative services dedicated to SMEs and related to technology transfer and innovation, access to international expertise, learning from success stories, as well as funding services for public administration and funding services for SMEs outside the country.

Participants see the SMART4ALL as an active network capable of bringing together opportunities for partnerships and cooperation. They stated their interest to have a role in SMART4ALL as an intermediaries between SMEs and the network, also to mentor, contribute, solve, teach and learn, create and support.

Here are the key takeaways:

A Collective Vision for Digital Transformation: The event emphasized the collective drive towards digital transformation. Experts and EDIHs shared a common vision of utilizing innovation and technology to shape a brighter future.
Focused Areas of Collaboration: The discussion honed in on essential areas ripe for collaboration, including Low-Energy-Computing (CLEC) technologies, Cyber-Physical Systems (CPS), and the Internet of Things (IoT). These domains hold the potential to revolutionize industries like Smart Mobility, Smart Building, Smart Farming, and Smart Healthcare.
Networking and Expertise: Participants stressed the value of networking, citing it as a key feature that could elevate their EDIH experiences. The exchange of success stories, access to international expertise, and legal advice on selling to SMEs were identified as activities that could enhance the value of their participation.
Active Collaboration: Participants envisioned an active network that fosters cooperation. This notion of a dynamic network aligned with their desire to effectively utilize the tools and resources offered by Smart4All.

SME Mentorship: As they looked to the future, many participants saw themselves playing a crucial role as bridges between SMEs and Smart4All, offering guidance and mentorship to small and medium-sized enterprises as they embarked on their digital transformation journeys.
Related Posts: